Robyn
Updated: Dec 24, 2020
Top 10 Films Released in 2019


10. Good Boys
There's something to be said for laughing your ass off in the movie theater. My number 10 slot could have easily gone to Sam Mendes' sensorial WWI masterpiece 1917 or Alex Ross Perry's Shakespearean Riot Grrrl drama Her Smell, but I wanted to honor one of the few films this year that really made me feel happy when I left the theater. Good Boys, directed by Gene Stupnitsky, is a gritty middle school Superbad, following a trio of 11-year-old nerds on a foul-mouthed, picaresque journey through their last days of childhood. An R-rated comedy predicated on the dramatic irony of prepubescent boys (mostly) misunderstanding the world of adults, this film made me guffaw so hard my stomach started to hurt. Jacob Tremblay and Keith L. Williams give some of my favorite performances of the year as two boys navigating their burgeoning relationship with masculinity.
9. Joker
Joker is stunning. And was one of the most debated films of the year - for being too politically on-the-nose, for exposing its seams a little too openly. But I loved the grimy art direction, the twisty script, the moving score, and the writhing vulnerability in Joaquin Phoenix's awards-worthy performance. (Other cast stands-outs include Frances Conroy and Robert De Niro, who I thought was better in this than The Irishman.) I feared this film wouldn't be epic enough for superhero movie fans or authentic enough for most film nerds, but crossing 1 billion dollars the box office means it certainly found its cultural footing somewhere. I don't necessarily want to watch it again anytime soon, but I still sometimes find myself feeling its emotional gut punch.
8. Marriage Story
Marriage Story will go down as one of Noah Baumbach's all-time greatest films, a funny, loving, and detailed look at two people who still care deeply for each other even as they find themselves on the opposite sides of a custody battle. (Imagine if Kramer v. Kramer were directed by Woody Allen.) Adam Driver and Scarlett Johansson are both dynamite as a showbiz couple navigating a New York-to-L.A. divorce. As it turns out, this was one of the most controversial films of the year, as fans could not agree who was in the right or who was in the wrong. My take? Charlie is a control freak who alienated Nicole, and although the story is presented mostly from his perspective, we're still essentially watching his gradual mea culpa as he finally learns to adapt to his ex-wife's needs.
7. Parasite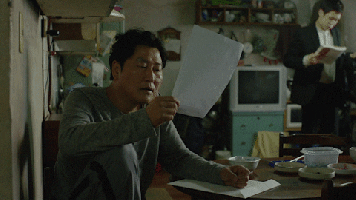 In a year unusually flush with twisty-turny adult dramas, Bong Joon-ho's horror dramedy might be the twistiest. A bonkers tale of class warfare in contemporary South Korea, Parasite is easily of the most surprising rides of the year: deadly peaches, enigmatic architecture, and the race to cook steak noodles in record time all figure heavily into the plot. Bong is a master craftsman of emotion and humor and gore, which he then hands off to legendary actor Kang Song-ho to deliver. Fasten your seat belt for the whirlwind experience.
6. Little Women
If Gillian Armstrong's 1994 version of Little Women is the most palatable, then consider Greta Gerwig's the most pungent. This wild adaptation of Louisa May Alcott's classic novel seamlessly winds you through past and present, Gerwig dispensing with chronological storytelling to make a grander statement about flashbulb memory and female ambition. (Her rah-rah feminist monologues sounds a bit too contemporary, but you still find yourself whooping along to her powerful words.) The script plays with timelines more than any other version, and in doing so, fashions a story that lands at unexpected emotional beats compared with the original novel and its subsequent adaptations. Saoirse Ronan's petulant Jo and Florence Pugh's passionate Amy stand out among a fantastic ensemble, but it's Timothée Chalamet's heartbroken Laurie that becomes the heart of the film. He practically steals the story from every one of these little women.
5. Hustlers
Unlike a lot of recent - and wilty - 'girl gang' films, Hustlers focuses on the power of sisterhood to anchor the story (as opposed to threats from boring villains.) Think of it like the "downstairs" version of The Wolf of Wall Street, as we watch BFFs Ramona (Jennifer Lopez, Oscar-worthy) and Destiny (Constance Wu) scheme to drug rich, horny desperadoes and run their credit cards into oblivion. Lorene Scafaria is a master of mood, conjuring whirlwind camerawork, jewel-toned lighting, and a banging soundtrack to tell a fascinating story of stripper scammery. I've never enjoyed Jennifer Lopez more. (The one downside, though: Constance Wu's hideous wig.)
4. Midsommar
A parable on the sins of ethnography and otherism, Ari Aster's daylight horror masterpiece is like opening up a treasure trove of horrible delights. Florence Pugh gives one of my favorite lead performances this year, starring as a grieving young woman who travels to Sweden with her jerk grad student boyfriend and his three jerk grad student friends to visit/study a remote clan still practicing the "old ways." While the delirious gore does shock your system, I was more struck by the intensity of the female camaraderie on screen. This duty to nurture becomes the film's greatest twist: When Dani, drenched in flowers from her May Queen victory, walks in on her boyfriend screwing one of the clan's teenagers, she crumbles to the floor, devastated. Soon the Harga women surround her and empathetically mirror her cries — the only people in the entire film to comfort her at all. Is it any wonder she chooses to stay with them in the end?
3. The Farewell
Lulu Wang's semi-autobiographical dramedy is an emotionally gutting and searingly funny film about death, familial love, and the sacrifices of immigration. On the surface, it's about a young Chinese-American writer (Awkwafina) who's horrified when she learns her family has no intention of telling her beloved grandmother (Zhao Shuzhen) that she has cancer, as they fear this knowledge will hasten the old woman's death. But when Billi returns to China after twenty-ish years of living in America, the question of how to handle her grandma's illness takes a backseat to her heartbreak as she realizes just how much the long-term distance from her family has cost her and everyone else. Wang's gorgeously-composed shots capture the big existential questions without a hint of mawkishness.
2. Booksmart
A comedy so nice, I saw it in theaters twice. I'll be honest: The "one crazy night" teen comedy sub-genre is my personal delight, so maybe I'm biased here. Wait, nope. This movie is perfection. Olivia Wilde's rollicking story of two nerdy girls suddenly realizing they, in fact, tormented the rest of their classmates throughout high school, follows Superbad, Can't Hardly Wait, The Breakfast Club, American Graffiti and even Clueless/Mean Girls in how it exceptionally balances the emotions of the fraught high school ecosystem with the R-rated hilarity of how teens really interact. I cackled, I teared up, I crushed along with our heroines, and bopped to the bangin' soundtrack. (Billie Lourd, by the way, for Best Supporting Actress.) It's a joyride of a movie and, yeah, I can't wait to see it again.
1. Uncut Gems
Without a doubt, this is one of the best films of the decade. I wept afterwards, it's that good. (What is it about me that I laughed mirthfully at the most devastating moment in Marriage Story, but cried my eyes out at this panic attack-inducing thriller about a gambling addict/diamond dealer who worms his way through life just to get to the next deal?) I don't know who I need to scream this to, but Adam Sandler needs win the Oscar NOW. I'm saying this as someone who has pretty much hated most of his oeuvre and personae. I am not a Sandler fangirl. But his performance in Uncut Gems is scummy and authentic and heartbreaking. (And if I had my druthers, directors Joshua and Benjamin Safdie, actress Julia Fox, and composer Daniel Lopatin would also get nominations.) The writing - superb. The directing - superb. The music - utterly fucking superb.


Top 10 Older Films I Saw in 2019


1. Nashville (1975)
2. The Lion in Winter (1968)
3. Fast Times at Ridgemont High (1982)
4. The Juniper Tree (1990)
5. Shoplifters (2018)
6. The Bostonians (1984)
7. Short Cuts (1993)
8. A League of Their Own (1992)
9. Oscar and Lucinda (1997)
10. Washington Square (1997)
#MarriageStory #AdamDriver #ShortCuts #BeanieFeldstein #Awkwafina #Parasite #KangSongho #FastTimesatRidgemontHigh #AriAster #TheJuniperTree #ConstanceWu #BongJoonho #BillieLourd #RobertDeNiro #AdamSandler #NoahBaumbach #TheBostonians #GretaGerwig #LouisaMayAlcott #DanielLopatin #TheLioninWinter #WashingtonSquare #LuluWang #AmyHeckerling #Shoplifters #AgnieskaHolland #GillianArmstrong #CameronCrow #RobertAltman #JenniferJasonLeigh #KaitlynDever #FlorencePugh #FrancesConroy #JacobTremblay #JuliaFox #Joker #Booksmart #JamesIvory #TheFarewell #LittleWomen #OscarandLucinda #JenniferLopez #Top10Filmsof2019 #KatherineHepburn #Hustlers #ZhaoShuzhen #LoreneScafaria #KeithLWilliams #Bjork #ALeagueofTheirOwn #SafdieBrothers #ScarlettJohansson #UncutGems #SaoirseRonan #GoodBoys #PennyMarshall #TimothéeChalamet #Nashville #ToddPhillips #JoaquinPhoenix #GeneStupnitsky #OliviaWilde #Midsommar