Robyn
Updated: Dec 24, 2020
Top 10 TV Series Released in 2018


10. Salt, Fat, Acid, Heat
A friend recently described chef Samin Nosrat to me as "The New Anthony Bourdain". I disagree. I don't think we need a "new" Anthony Bourdain and I don't want to reduce Nosrat's contributions to foodie television to the confines of someone else's brand. She doesn't need to be brash to make her mark; she's her own thing: warm, intelligent, funny, sophisticated, cozy. Netflix's Salt, Fat, Acid, Heat is a gorgeously filmed food-travel documentary that hones in on the pillars of basic flavors and techniques to teach viewers how to find/combine them to perfection. Instead of giving us blueprints, she gives us rubrics, and helps us discover our creativity along the way.
9. G.L.O.W.
I liked the first season of Netflix's GLOW, a funny and irreverent fictionalized account of how a bunch of washed-up actresses became lady wrestlers in the 1980s. But the show truly shines in Season 2, offering us funnier scenarios, deeper relationships, richer characterizations, and a broader vision of the artifices of professional wrestling and TV creation at large. The predominantly female ensemble is one of the best on television, though Betty Gilpin stands out as Debbie/"Liberty Belle", rocking every zingy one-liner and tearful standoff as her character figures out how to don the masks of being the alternative TV star she never thought she'd be and the divorced single mother she never wanted to be.
8. Claws
If you're looking for a show to replace Game of Thrones, don't bother with Outlander or any old sword-and-sandals epic. Instead, try TNT's feminist thriller Claws, a violent, bonkers-femme soap starring Niecy Nash as Desna, an ambitious nail salon owner who ascends from laundering money for a local Florida drug-runner to becoming a Dixie mob boss in her own right. What makes GoT so compelling are its tangled social and political twists, not its intermittent battle sequences or faux-medieval setting. Clawsis basically set in steamy, sunny Westeros: orphan trauma, gutting betrayals, and surprise weddings to seal political alliances are all part of its repertoire. (The show also features "magical" sex that wakes people up from comas. Seriously.) Season 2 gives us a fantastically psychotic performance from Franka Potente as a Sheryl Sandberg-wannabe Russian gangster who leans into being a stone-cold c*nt. Claws is the perfect summer series.
7. Chilling Adventures of Sabrina
Netflix's Chilling Adventures of Sabrina has been one of the great surprises of the year. Far from the camp and hijinks of the '90s sitcom also based on Archie Comics' teen witch, this Sabrina is legitimately spooky, brimming with gore, mayhem, and sexuality under a Todd Haynes-like retro aesthetic sheen. Tonally, it may as well be American Horror Story: Teens. Beyond Sabrina's shocks, however, is a deeper thread about the question of consent — in all areas of our lives — and how we learn to live with the consequences of bad choices made with good intentions. (Sabrina is also one of the most openly religious shows on television right now. The religion, of course, just happens to be Satanism.) Hail Sabrina.
6. Insecure
Insecure confirms its true love story in the third-season premiere when Issa picks up best friend Molly from the airport, an act reserved only for the faithfully dedicated. Our adorkable heroine (Issa Rae) pulls up at LAX arrivals and beach-fresh bestie (Yvonne Orji) hops into the car, immediately pulling a souvenir gift from her bag — a jar of sand. "It reminded me of your dry-ass pussy," she chirps. You know what they say: Come for the one-liners, stay for the pathos. Despite its status as one of TV's sharpest, funniest and raciest comedies, HBO's Insecure has a pitch-dark existential streak running right through its heart. Behind the eyes of every major character are the questions, "How did I even get here? And what am I willing to do to blow up my life?" Season three sheds the series' coiled mea culpas to focus on the psychological impotence of hitting your 30s without a game plan.
5. Atlanta: Robbin Season
The rise of Black social horror ― from last year's Oscar juggernaut Get Out to this summer's satiric fever dream Sorry to Bother You ― has been one of the most vital developments in 21st century cinema. Artists like Jordan Peele, Terence Nance, and Boots Riley have risen to notoriety by combining humor, surrealism, and social commentary to examine the contemporary black American experience. In a similar vein, FX's Atlanta has the veneer of being a comedy - it certainly is funny - but it's closer to an existential tonal anthology. Robbin Season gave us everything: a failed night of stuntin' at the strip club; relationship drama at a German beer fest; a white-face house of horrors; the nightmare of middle school' a picaresque day just trying to get a haircut' being lost with ghosts in the woods; and an evening searching for Drake around his mansion but only finding his "Mexican grandpa" instead. The show is beautifully, academically weird.
4. Killing Eve
Jodie Comer is a queen, and we are her mere subjects. BBC America's zippy, funny, sexy feminist thriller actually made me care about spy games - no easy feat. Comer as Villanelle, a psychotic, ultra-femme Russian-born international assassin with a thing for older women, gave 2018's most addictive performance - I couldn't take my eyes off of her. Of course, her character would be nothing without the mouse to her cat, intelligent-but-naive MI5 officer Eve Polastri (Sandra Oh) who thinks she's the only one who can stop Villanelle's habit for murder. Come for the basic premise, stay for the lesbian subtext.
3. Derry Girls
Netflix's cracker Irish import Derry Girls, a hit earlier this year on Britain's Channel 4, celebrates what it means to be a female dickhead. Like a gender-swapped take on British teen-raunch classic The Inbetweeners, this six-episode, gloriously foul-mouthed sitcom follows the exploits of four Northern Irish girls — and their wimpy English male tagalong — in the late 1990s as they get into mischief at their Catholic high school and just generally make life more difficult for themselves. Set during the Troubles, a low-level guerrilla war in Northern Ireland between Irish nationalists and British loyalists, the show is also ostensibly about growing up in a hotbed of terrorism, oppression, and ethno-nationalist conflict. But, you know, laugh-out-loud hilarious. My favorite comedy of 2018.
2. The Deuce
This has been a superlative year for predominantly-female ensemble series in their second seasons. The Good Fight, Claws, GLOW, Harlots each evolved from good to great shows after their first seasons. But no series experienced a bigger jump in quality than HBO's sprawling and detailed The Deuce, which chronicles the rise of the porn industry through the lens of sex workers, pimps, mobsters, politicians, bar tenders, cops, film makers, store managers, and social workers who mill around 70s-era Times Square. Season 1 explores the poverty-abuse cycle, the beating-heart of a series that puts sex workers and the nuance of their experiences at the forefront of the narrative. Far from a sexy fantasy, the streetwalkers on this show emphasize the physical labor of the work - battered bodies subject to dismissive johns and cruel pimps. This is valuable art, but Season 2 shows how these women grow in power and sometimes rise like Icarus too close to the sun. Former sex worker Candy/Eileen (Maggie Gyllenhaal) becomes a bona fide erotic film director, pimp-controlled Lori (Emile Meade) finds confidence as a popular and emerging porn star, and abuse survivor Ashley/Dorothy (Jamie Neumann) returns to New York to save the Deuce's sex workers from the life she used to lead. These arcs give you hope, and make me salivate for its third and final season.
1. Harlots
Smart, raw, cheeky, frothy, compelling, profound, vicious, colorful, hilarious, dirty, lush, desperate, lewd, devastating, tearful, shocking: here are a bunch of adjectives to describe the pleasure of watching a show about 18th century sex workers who love and battle each other with equal fierceness. (The silken, technicolor frocks help, of course.) More akin to a mobster show than a traditional drama, we're witness to the war between competing madams Margaret Wells (Samantha Morton) and her former pimp Lydia Quigley (Lesley Manville), who indiscriminately wield emotional and physical violence against each other. The best part of the show, however, is its sprawling supporting cast, and Season 2's new characters - from mouthy little person prostitute Cherry (Francesca Miles) to aristocratic sexual abuse survivor Lady Fitz (Liv Tyler) - continue to enrich this already incredible show.
Honorable Mentions:


Random Acts of Flyness
Great News
The Great British Bake Off
The Good Fight
Vanity Fair














Best Older Series I saw in 2018:


The Crown Season 2 [2017]
The Windsors Seasons 1-2 [2016]
Little Women miniseries [2017]
Travel Man Seasons 1-5 [2015]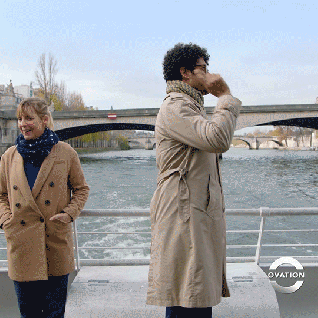 Charles II: The Power and the Passion miniseries [2003]
Big Mouth Seasons 1 [2017]
#AtlantaRobbinSeason #KillingEve #VanityFair #BettyGilpin #Atlanta #JamieNeuman #SaminNosrat #ChillingAdventuresofSabrina #Claws #TerenceNance #LivTyler #GameofThrones #GLOW #FrancescaMiles #SaltFatAcidHeat #TheGreatBritishBakeOff #TheGoodFight #DerryGirls #SorrytoBotherYou #JodieComer #Cheers #TravelMan #Netflix #RandomActsofFlyness #TheInbetweeners #NiecyNash #YvonneOrji #Harlots #LesleyManville #TheWindsors #MaggieGyllenhaal #LittleWomen #ArchieComics #BootsRiley #Insecure #TheCrown #EmilyMeade #Outlander #SandraOh #Channel4 #TNT #BBCAmerica #FrankaPotente #JordanPeele #TheDeuce #FX #CharlesIIThePowerandthePassion #SamanthaMorton #BigMouth #GetOut #HBO #GreatNews #IssaRae #AnthonyBourdain